Seven Tree Manor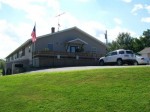 Seven Tree is close to the Union town center, with banking and shopping available, and a short ride to Rockland and Camden, ME.
Comfort Commitment – We strive to make sure every resident at a Davis Long Term Care facility enjoys the highest level of comfort they can. From comfortably, well appointed rooms, elegant dining area, and cozy common areas and lounges, each space is carefully designed to meet our residents needs, both physically and emotionally. We believe every resident should feel as proud of their home as we do.
We serve nutritious meals in a family setting from menus approved by a Registered Dietician. Special diets are also available per your doctor's advice.
Personal & Independent – Staying active and independent is important to our residents, regardless of their level of needed assistance. We understand the importance of maintaining an active and engaging social life. Every Davis Long Term Care facility has a staff Activity Director that oversees a busy and varied program.
In addition to special events and seasonal outings, we provide:
• Field Trips• Movies/Videos
• Shopping• Arts & Crafts
• Religious Services• Resident Council
Medical Care
Every Davis Long Term Care facility assists with medial care under the direction of the resident's attending physician. The cost of this medial care is the responsibility of the resident. We provide:
• 24-Hour Staff
• Medication Administration
• Care Planning
This property offers Retirement Living, Retirement Homes, Retirement Communities, A Retirement Community, Senior Housing, Warm Senior Community, Independent Living, Active Adult Living, Active Adult Communities, Assisted Living, Alzheimer's Care, Memory Care, Elder Care, Senior Care, Home Care, Continuing Care, Long Term Care, Skilled Nursing Care, Nursing Home, Nursing Care, Retirement Care, Rehabilitation